Easter, is normally quality time with extended family at home or getaways to your childhood caravan park or camping ground and of course chocolate; lots and lots of chocolate!
This year it will be camping the backyard or your lounge room, caravan in the driveway and group video catch up with family & friends. But the one great thing with staying at home, the fully stocked fridge and pantry.  Easter feasting is on the cards for our team's households this year and we have picked a few dishes of our Easter weekend menu to inspire our community.
Put on your chef hat and apron and create some feasting moments in your home this Easter with your partner, kids or the whole family.
MORNING TEA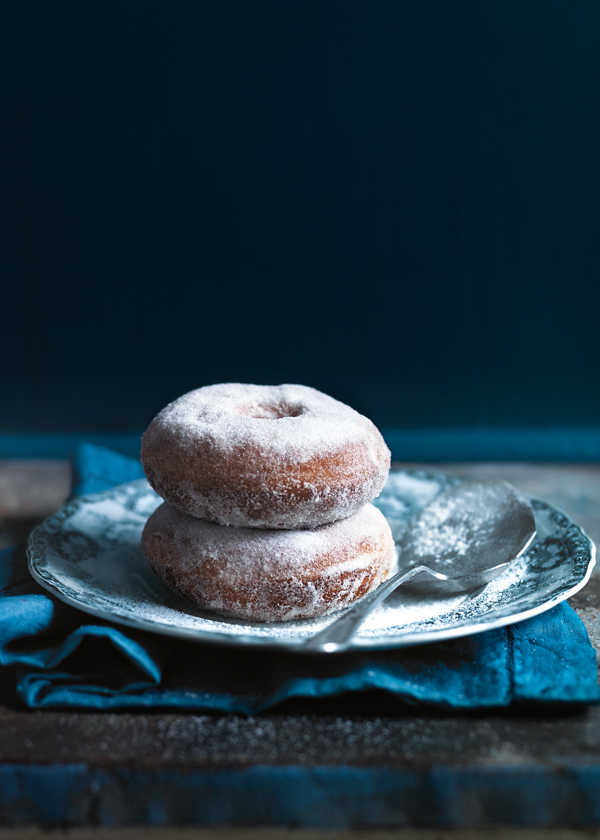 Apple and Cinnamon Doughnuts – by Donna Hay
Ingredients (Makes: 6)
2 teaspoons Active Dry Yeast
1½ tablespoons lukewarm water
½ cup lukewarm milk
3 tablespoons caster sugar, plus extra for dusting
50g unsalted butter, melted
2¼ cups (335g) plain (all-purpose) flour
2 eggs
1 teaspoon lemon juice
1 teaspoon ground cinnamon
6 slices whole granny smith (green) apple
Vegetable oil, for deep-frying
Method
Place the yeast, water, milk and 1 tablespoon of sugar in a large bowl and set aside in a warm place for 10 minutes or until bubbles appear on the surface. Add the butter, flour, eggs and another 1 tablespoon sugar to the yeast mixture and use a butter knife to mix until a sticky dough forms. Turn out onto a lightly floured surface and knead until smooth. Place the dough in a lightly oiled bowl, cover with a clean, damp cloth and set aside in a warm place for 45 minutes or until doubled in size.
Place the remaining sugar, lemon juice, cinnamon and apple in a bowl and toss to coat.
Knead the dough on a lightly floured surface for 5 minutes or until smooth and elastic. Divide into 2 equal portions and roll each out to 1cm-thick. Top 1 dough piece with the apple and sandwich with the remaining dough. Use a 9cm-round cutter to cut around the dough and apple to make 6 rounds. Use a 3cm-round cutter to cut holes from the centre of the rounds to make rings.
Place rings on a baking tray lined with non-stick baking paper and set aside for 30 minutes or until risen.
Place the oil and a sugar thermometer in a large, deep saucepan over medium heat until temperature reaches 180°C (350°F). Cook the doughnuts, in batches, for 1–2 minutes each side or until golden. Drain on absorbent paper. Dust with the extra sugar and serve immediately.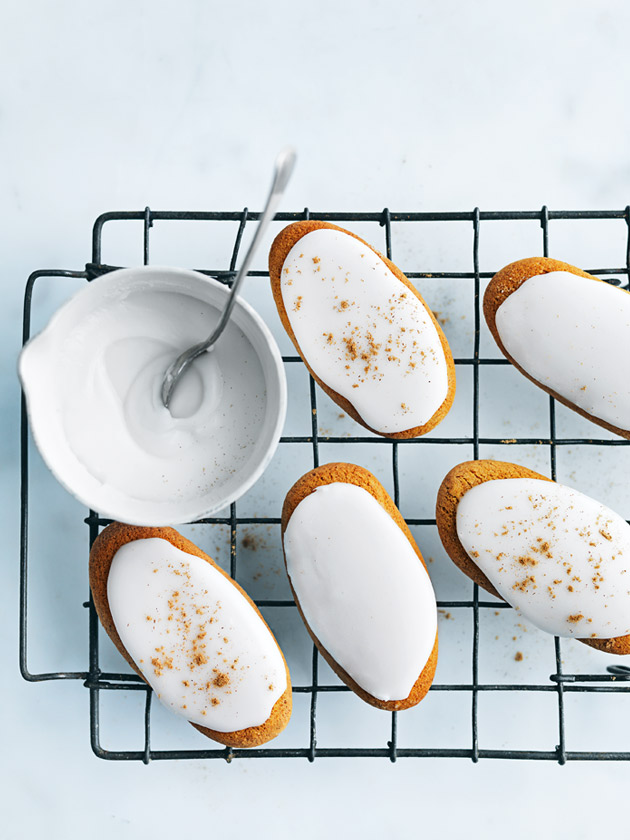 Ginger and Honey jumbles (ultimate childhood favourite!) – by Donna Hay
Biscuit Ingredients (Makes: 16)
40g unsalted butter, chopped
½ cup (175g) honey
1 cup (150g) plain flour, sifted
½ teaspoon bicarbonate of soda
1 teaspoon ground ginger
1 teaspoon ground cinnamon
1 tablespoon finely grated orange rind
1 tablespoon milk
Icing Ingredients
2½ cups (400g) icing sugar, sifted
1 teaspoon honey
¼ cup (60ml) boiling water
1 teaspoon ground ginger
Method
Preheat oven to 160°C. Place the butter and honey in a small saucepan over medium heat. Bring to a simmer, reduce heat to low and cook for 2 minutes. Allow to cool slightly.
Place the flour, bicarbonate of soda, ginger, cinnamon, orange rind, milk and butter mixture in a bowl and mix well to combine. Refrigerate for 20–30 minutes.
Roll 2 teaspoons of dough into 8cm logs and place on large baking trays lined with non-stick baking paper, allowing room to spread. Cook for 10–12 minutes or until light golden. Allow to cool slightly before transferring to wire racks to cool completely.
To make the icing, place the icing sugar, honey and water in a bowl and whisk until smooth. Spread biscuits with icing, sprinkle with ginger and set aside for 10–15 minutes or until icing has set.
Notes: Use lightly floured hands to roll out the dough, this will help it from sticking to your fingers.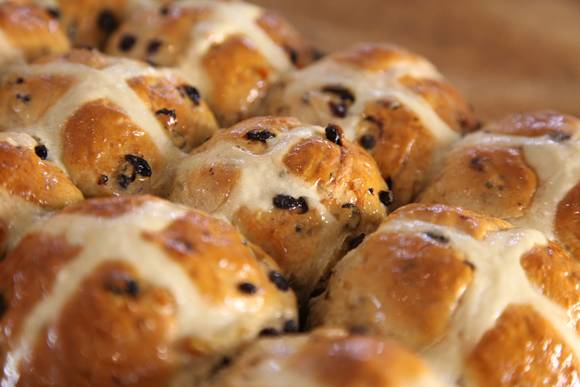 Hot Cross Buns – by Maggie Beer
Dough Ingredients
Glaze Ingredients
4 tbspn

 

Maggie's Orchard Apricot Jam
Method
Combine 4 cups of flour, yeast, sugar, mixed spice, salt and currants in a large bowl.
Melt butter in a small saucepan over a medium heat and add the milk. Heat for 1 minute, or until lukewarm. Add warm milk mixture and eggs to currant mixture.
Use a flat bladed knife to mix the dough until it almost comes together, then using clean hands, finish mixing to a soft dough.
Turn dough out onto a floured surface. Knead for 10 minutes, or until dough is smooth.
Place into a lightly oiled bowl and cover with plastic wrap. Set aside in a warm, draught free place for 1 – 1 ½ hours, or until dough doubles in size.
Line a large baking tray with non-stick baking paper. Punch dough down to its original size. Knead for 30 seconds on a lightly floured surface until smooth. Divide into 12 even portions and shape each portion into a ball.
Place balls onto the lined tray, about 1cm apart. Cover with oiled cling film and set aside in a warm, draught free place for 30 minutes, or until buns double in size.
Preheat fan-forced oven to 170C.
To make the flour paste, mix ½ cup plain flour and 4 tablespoons of water together in a small bowl until smooth, adding a little more water if paste is too thick. Spoon into a small snap-lock bag and snip off one corner to create piping bag. Pipe flour paste over tops of buns to form crosses.
Place into preheated oven and bake for 20 – 25 minutes, or until buns are cooked through.
To make the glaze, place water and jam into a small saucepan over low heat and stir until jam dissolves. Bring to the boil for 3-4 minutes, then remove from heat. Immediately brush glaze over warm hot cross buns.
Serve warm or at room temperature.
Note: For a light, fluffy bun, always check the used by date on dry yeast, ensure the yeast doesn't directly touch the salt as it will be killed (place in either side of the bowl prior to mixing), ensure you prove the dough so it is doubles in size & ensure the buns go into a preheated oven. It's also important to remember that homemade are different to shop bought, so try not to expect the same product!
---
APPETISER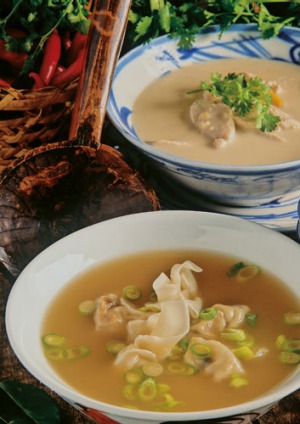 Won ton Soup – by Good Food
Ingredients
3 dried Chinese mushrooms
125 g pork mince
60 g raw prawn meat, finely chopped
½ teaspoon salt
2 teaspoons soy sauce
1 teaspoon sesame oil
1 spring onion, finely chopped
1 teaspoon grated ginger
1 tablespoon finely chopped water chestnuts
24 won ton wrappers
5 cups chicken stock
4 spring onions, very finely sliced, for garnish
Method
Place mushrooms in small bowl; cover with hot water, leave to soak 30 minutes. Drain, squeeze out excess liquid. Remove stems, chop caps finely. Thoroughly combine mushrooms, pork, prawn meat, salt, soy, sesame oil, spring onion, ginger and water chestnuts.
Working with one wrapper at a time (cover remainder with clean, damp tea towel), place a level teaspoonful of mixture on each wrapper.
Moisten edges of wrapper, bring sides up to form a pouch. Place on a plate dusted with flour. Cook in batches in large pan of rapidly boiling water 4–5 minutes; remove, drain. Boil stock in another pan. Place won tons in bowls. Garnish with spring onions, pour in hot stock.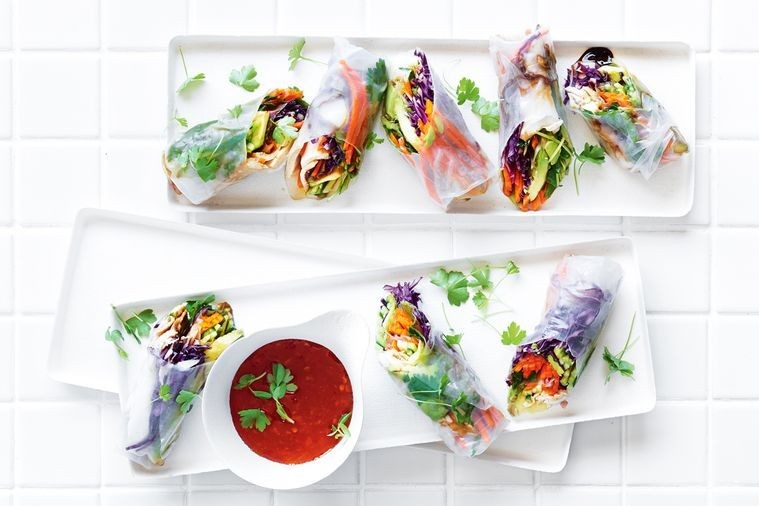 Kecap manis chicken rice paper rolls – by Delicious
Ingredients
1.8kg whole chicken
1/3 cup (80ml) kecap manis
4 rice paper wrappers
1 carrot, shredded
1 cup (80g) shredded purple cabbage
1/3 bunch coriander leaves
1 Lebanese cucumber, sliced
50g snow pea sprouts
Sweet chilli sauce to serve
Method
Preheat oven to 160°C (fan-forced)
Pat chicken dry then brush with 2 tbs kecap manis and place in a roasting dish. Roast for 1 hour or until chicken is cooked through and skin is darkened.
For the rice paper rolls, soak 1 rice paper wrapper in a bowl of warm water for 10 seconds, then place on a clean, damp tea towel.
Shred the chicken, then place a little along one end of the rice paper. Top with carrot, cabbage, coriander, cucumber, sprouts and a little extra kecap manis.
Fold in sides of wrapper, then roll up to enclose. Repeat to make 4 rolls. Serve for lunch with sweet chilli sauce for dipping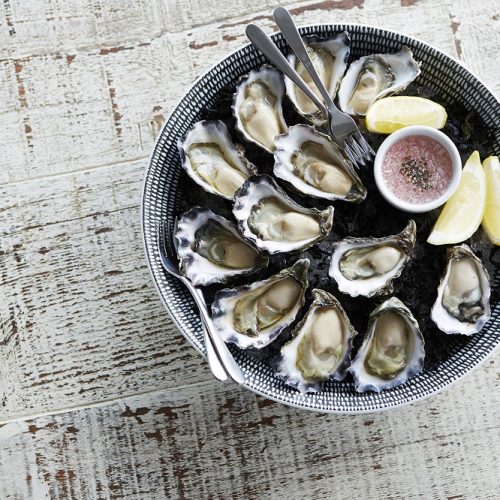 Oysters with Mignonette Dressing – by Matt Moran
Ingredients
3 golden shallots, very finely chopped
100ml aged red wine vinegar
1 teaspoon freshly ground black pepper
24 oysters, freshly shucked
Rock salt, to serve
Lemon wedge, to serve
Method
To make the dressing, combine the shallots, red wine vinegar and black pepper in a bowl and stir to combine.
To serve, place the freshly shucked oysters on a bed of rock salt.
Spoon the dressing over the oysters, and serve with a lemon wedge if you like.
---
DINNER TIME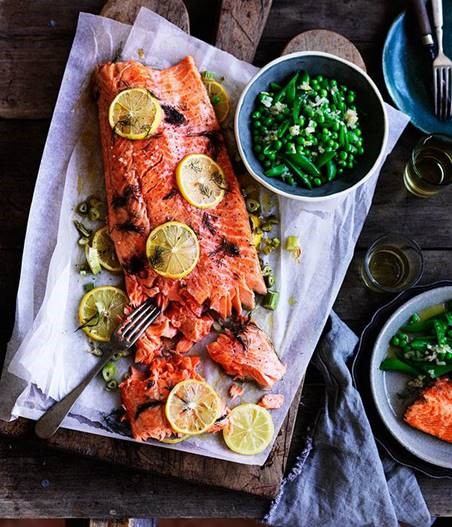 Slow-cooked ocean trout with peas, Meyer lemon and fennel salsa – by Danielle Alvarez
Trout Ingredients
½ small fennel bulb, coarsely chopped (reserve other half for salsa)
2 lemons, thinly sliced
1 ocean trout fillet (about 1.2kg), skin on pin-boned
1 bunch bronze fennel (see note)
For drizzling: olive oil
180 gm sugarsnap peas, trimmed and sliced diagonally
120 gm podded peas (about 350gm unpodded)
Meyer lemon and fennel salsa Ingredients
½ small fennel bulb, finely chopped, fronds reserved
1 golden shallot, finely chopped
1 Meyer lemon, cheeks removed, finely diced (see note)
Juice of ½ lemon
100 ml olive oil
Method
For salsa, blanch fennel until just tender (1-1½ minutes), drain, refresh and set aside. Combine shallot and lemon in a bowl with lemon juice and a pinch of salt, and stand to soften (8-10 minutes). Add fennel and olive oil, season to taste and set aside.
Preheat oven to 135C. Line a large baking tray with baking paper, scatter with fennel and half the lemon slices, then place fish on top skin-side down. Season to taste, scatter with bronze fennel and remaining lemon slices, drizzle generously with olive oil and roast until cooked medium-rare (15-20 minutes; because of the low temperature, the flesh will cook and flake, but still appear a deep red colour inside).
Meanwhile, blanch peas (2-3 minutes) and sugarsnap peas (1-2 minutes), drain, refresh, drain well and transfer to a bowl. Serve peas with roast trout, all scattered with a generous amount of Meyer lemon and fennel salsa.
Notes: Bronze fennel and Meyer lemons are available from specialist greengrocers and farmers' markets. Meyer lemons are sweeter than regular lemons; if they're unavailable use the zest only of a regular lemon – the flesh will be too tart for this. If bronze fennel is unavailable, use fennel fronds.
Slow-roasted lamb neck with rosemary salted potatoes – by Gourmet Traveller
Ingredients
80 ml (1/3 cup) olive oil
1 onion, finely chopped
4 garlic cloves, finely chopped
4 anchovy fillets
1 tbsp rosemary, coarsely chopped
70 gm Dijon mustard (¼ cup)
120 gm coarse sourdough breadcrumbs
1 cup (loosely packed) flat-leaf parsley, coarsely chopped
70 gm parmesan, finely grated
Finely grated rind of 1 lemon
2 lamb necks (about 500gm each), butterflied (see note)
60 ml olive oil (¼ cup)
400 ml chicken stock
300 ml white wine
Rosemary salt-roasted potatoes Ingredients
6 eggwhites
500 gm rock salt
1.2 kg baby potatoes such as Otway reds or chats
2 tbsp extra-virgin olive oil
6 garlic cloves, unpeeled
1 tbsp rosemary
Method
Heat half the olive oil in a frying pan over medium heat, add onion and garlic and stir occasionally until tender (6-8 minutes). Add anchovies and rosemary and stir occasionally until anchovy dissolves (1-2 minutes). Remove from heat, stir in mustard and set aside to cool. Add breadcrumbs, parsley, parmesan and lemon rind and season to taste.
Preheat oven to 180C. Place lamb on a work surface, place half the stuffing along a long edge, season to taste, roll to form a long cylinder, then secure at intervals with kitchen string. Repeat with remaining lamb and filling.
Heat remaining oil in a large frying pan over high heat. Add lamb and cook, turning occasionally, until golden (2-3 minutes each side). Transfer to a casserole and repeat with remaining lamb. Add stock and wine, cover with lid, bring to the simmer over medium heat, then reduce heat to low and cook, basting occasionally, until lamb is tender and cooked through (2-2¼ hours). Remove string, set aside to rest (15 minutes) and thickly slice before serving.
Meanwhile, for rosemary salt-roasted potatoes, lightly whisk eggwhite until frothy, then stir in salt. Spread potatoes in a baking tray, drizzle with oil, scatter with garlic and rosemary, then spoon over salt mixture and roast until potatoes are tender (50 minutes-1 hour). Crack salt crust, remove potatoes and serve hot with sliced lamb neck and pan juices.
Note: Butterflied lamb neck may need to be ordered from your butcher.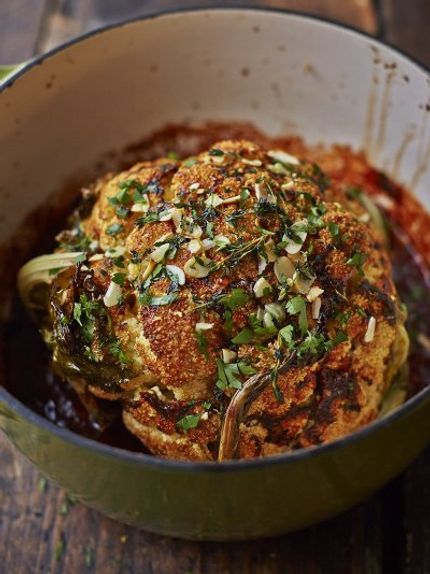 Whole Roasted Cauliflower (great as an alternate side dish) – by Jamie Oliver
Ingredients
4 cloves of garlic
1 teaspoon smoked paprika
½ a bunch of fresh thyme , (15g)
olive oil
1 lemon
1 large cauliflower , with outer leaves (1kg)
4 tablespoons dry sherry
1 x 400 g tin of quality plum tomatoes
40 g flaked almonds
½ a bunch of fresh flat-leaf parsley , (15g)
extra virgin olive oil
Method
Preheat the oven to 180ºC.
Peel the garlic, then add to a pestle and mortar with the paprika and half the thyme leaves. Bash well to a rough paste, then muddle in 2 tablespoons of olive oil and season.
Zest the lemon into a separate bowl and set aside.
Trim the outer cauliflower leaves. Trim away and discard the stalk so the cauliflower can sit flat, then cut a cross into the base.
Rub the paprika paste all over the cauliflower, then place in a medium casserole pan. Drizzle over the sherry and squeeze the lemon juice on top.
Cover and pop in the hot oven for around 1 hour 20 minutes, or until tender, removing the lid for the final 20 minutes.
Remove the pan from the oven, then pour in the tomatoes, tearing or slicing them up into chunks. Sprinkle over the lemon zest and pick over the remaining thyme leaves.
Return the pan to the oven for a further 10 minutes, or until the cauliflower is golden.
Meanwhile, toast the almonds in a dry frying pan over a medium-low heat until golden, then leave to cool.
Once ready, take the pan out of the oven. Scrunch over the toasted almonds, then pick, roughly chop and scatter the parsley leaves on top.
Drizzle with extra virgin olive oil, then carve up and serve with pilaf rice and steamed greens, or as part of a bigger spread.
---
SWEET TREATS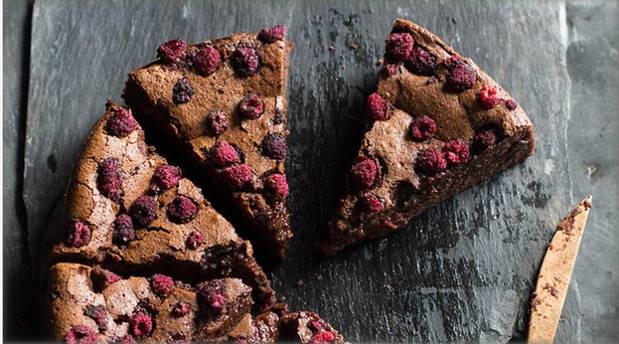 Best Flourless Chocolate Cake Ever – by Flour and Stone
The lightness of the crumb makes it difficult to stop at just one slice, and while it needs no accompaniments, there is nothing that can't improve with a big dollop of double cream.
Ingredients
220g good-quality dark chocolate (minimum 60% cocoa solids), roughly chopped
110g unsalted butter, cut into large cubes
4 eggs
90g light brown sugar
60g almond meal
60ml buttermilk
180gfrozen raspberries
Method
Cooking time: 2 hours
Preheat the oven to 140°C. Line a 22 cm cm springform cake tin with baking paper and dust with flour.
Place the chocolate and butter in a heatproof bowl set over a saucepan of barely simmering water to melt, stirring occasionally with a spatula until melted and combined. Ensure the water is not touching the bottom of the bowl and that the heat under the bowl is gentle so that the chocolate doesn't burn.
Meanwhile, place the eggs and sugar in the bowl of an electric mixer fitted with the whisk attachment. Beat on high speed for about 5 minutes until it is thick and fluffy (this is called a sabayon).
Once the chocolate has melted, turn the mixer off and pour the chocolate straight into the bowl with the eggs, then add the almond meal and buttermilk. Return the bowl to the mixer but this time use the lowest speed to gently mix all the ingredients together (as if you were folding it by hand). You will notice the mixture is quite streaky at this point as the foam from the sabayon melds with the chocolate ribbons. After a few turns around the bowl the streaks will start to disappear and you want to stop the whisk just before the last streak disappears. This will ensure a light batter that has not been overworked. Remove the bowl from the mixer and use a spatula to scrape all the way to the base of the bowl to ensure any chocolate that has fallen to the bottom is well combined.
Pour the batter into the prepared tin and bake for 45 minutes or until the top of the cake has formed a crust. Remove from the oven and cover with the raspberries, gently pressing them into the surface of the cake. Don't be tempted to scatter the raspberries over the batter before baking as they will just fall to the bottom.
Return the cake to the oven and bake for a further 30–40 minutes or until the centre is springy to touch. It can be hard to judge the readiness of this cake but because it's flourless the good news is it's hard to overbake it! The centre will always remain lovely and gooey, so if you have any doubts just leave it in there. If you do need extra cooking time and the raspberries start to burn you can easily cover the cake with foil for the rest of the baking time. If you decide to omit the raspberries and leave the cake plain, just bake it for 1 hour all up.
Let the cake cool in the tin for at least 2 hours before you remove it. It can be difficult to cut because it is so sticky but if you heat the blade of the knife with hot water and wipe it dry before slicing you will achieve a nice neat cut.
Note: To bake a 26 cm cake (which will serve 15-20), use the following quantities instead: 350g dark chocolate, 185g unsalted butter, 6 eggs, 150g light brown sugar, 100g almond meal, 100ml buttermilk, 250g frozen raspberries.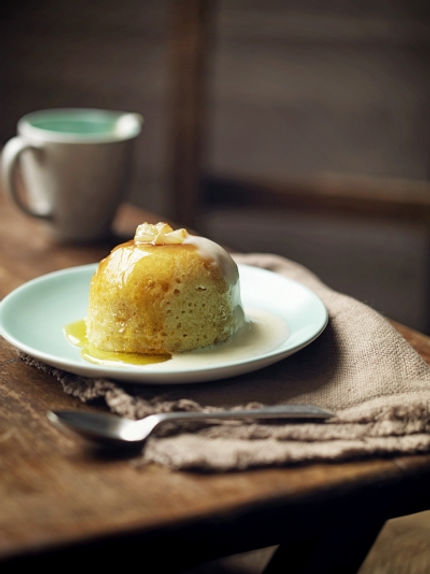 Pear and Ginger pudding – by Jamie Oliver
Ingredients (makes: 2 puddings)
55 g unsalted butter , softened, plus extra for greasing
55 g self-raising flour
55 g caster sugar
1 large free-range egg
1 piece of stem ginger in syrup
1 orange
1 ripe pear
golden syrup or reserved ginger syrup
Method
Start by making 2 greaseproof paper discs to top the puddings: place 2 teacups or ramekins upside down on greaseproof paper, draw round them, then cut out the circles, just inside the line.
Lightly grease one side with butter, then grease the inside of the teacups or ramekins.
In a food processor, blitz the flour, sugar, butter and egg to make a batter.
Chop and add the ginger, finely grate in the orange zest, then pulse once or twice.
Peel, core and cut the pear into 1cm chunks.
Pour a little golden syrup or reserved ginger syrup into the base of each cup or ramekin, then top with half the chopped pear each.
Divide the batter between the two, then lightly press a circle of paper on top, butter-side down.
Cook in the microwave on full power for 4 minutes, or until it feels springy to the touch.
Leave to cool for a couple of minutes, then carefully turn out and enjoy with lashings of hot custard.