What better time to Declutter, Re-organize and Style your home than Spring.   We are a little bit obsessed with getting organised so we thought it was fitting to sit down with Megan Dryden, the founder of The Organized Life for our first spring series to Organize your Home.
If you need to declutter, part with old possessions then let us introduce you to Megan and the business that will literally change your life.
What do you do and where did you get the idea for the business?
I organise people's homes, giving them more time to do the things they love.
I've always had the idea and dream to be an organiser, in high school I used to organise my family home and my friends' wardrobes and lockers.
I wasn't sure if it was a real job or if I could make it one but with the push from some friends and family, I started The Organized Life!
What are your 'top 5 tips' for spring cleaning your house?
Tip 1 – Schedule time – Make a schedule don't try and tackle your whole home in 1 day. Pick the area of your home that you feel needs the most help and go room by room. Don't overwhelm yourself by trying to do every space at once.
Tip 2 – Set goals – Think about what you would like to achieve from this spring clean. Make sure you're specific with what you want and by when? That way it creates a timeline for you to work on & you can prioritise areas in your home.
Tip 3 – Declutter smart – You always start by decluttering, so it's important this first step is done right. Create 3 different types of "zones" to organise the items (Keep, Bin &Donate) these piles will make it easier to stay on track and move faster through your home.
Tip 4 – Get a team! It doesn't matter if it's a paid professional or just friends & family it can be overwhelming doing it by yourself, so having two or more people to give you a hand boosts motivation and makes the work so much easier.
Tip 5 – Take before & after photos –  You don't need to share it on social media but it's a sense of accomplishment that once you've checked off each area of the house and you see the transformation it will give you more inspiration and motivation to continue.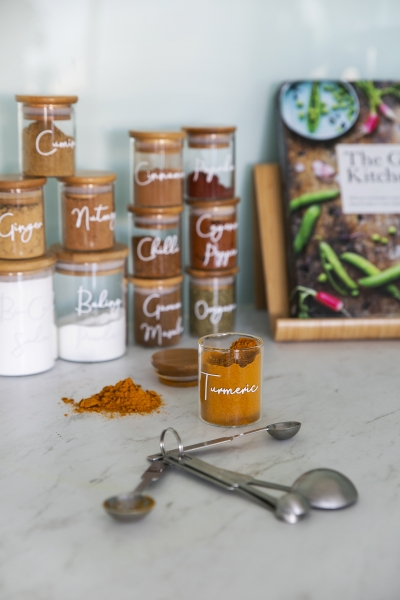 Do you have a process that you follow for de-cluttering and re-organising?
Yes, we do but it is slightly different for each area, here's an example of the process we use when decluttering a pantry.
The Pantry Process
Step 1: Clear & group – Take everything out of your pantry and group like items on your bench.
Step 2: Expiry dates – Check expiry dates! This is a really important one, you'll be surprised at how fast things go off. Anything you don't like or don't use get rid of.
Step 3: Clean – Give your pantry a really good clean as you probably can't remember the last time it got a good wipe down.
Step 4: Space Plan – Measure your space and make sure when purchasing products, you really utilise and maximise the space. We purchase a lot of our organisational materials from IKEA, KMART and Howards Storage.
Step 5: Labels- It's really important that you label your canisters and tubs. When you put a label on something that gives it a HOME. We order all out labels from Little Label Co.
Step 6: Style- The fun part! When all your organising materials have arrived make sure you group like items e.g. "SNACKS" can all go into the same tub.
Step 7: Maintenance – After completing a grocery shop it's really import decant items directly into their containers and be sure to note the use by dates. Also ensure you're rotating your items, so nothing goes off.
Here's the simplified version you can use for any area in your home:
Step 1: Take everything out of the space. (As you remove the items ensure you group them in "keep", "donate" or "bin") TIME SAVING TIP: all "keep" items – categorise as you declutter the area, don't just throw them away, stay organised so it's faster when re-organising.
Step 2: Clean the area.
Step 3: Assess the area & assess the items (categorise in date, colour, size or whatever will fit the specific area best for ease of use ongoing.
Step 4: Put the items back in place- perfectly organised.
What is the most common request you receive?
Wardrobe and Kitchen but we love to help our clients in any area of their home. We find after both of these transformations (mums especially) feel like a weight has been lifted off their shoulders as they can access items easier whether it's feeding the family or picking what to wear it saves them time!
Do you charge an hourly rate?
Yes, we will quote on each job uniquely as the work and number of hours required for each differs for every client.
Do you do a phone consult and zoom or facetime before the booked time so that you can see what you need to bring or do you do a site visit and then an execution day?
We offer free phone consultations. Prior to the consult we ask our clients to send us some images and videos of their space so we can provide them with a rough quote.
Kitchen, Pantry and Garage Goals
Realistically how many hours should you allow for the first visit.
First visits we call "Phase 1 Decluttering" prominently our first visit will take anywhere from 4-7 hours we spend this time decluttering, sorting, measuring and space planning the area. It is very rare that we will be able to go into an area and organise it on the first day. It is really important that we always start by decluttering so that when we go to buy the organising materials we are only organising the items they truly need, want and love.
What is your favourite request when working with a client?
Myself and the team love to declutter and reorganise garages. We get to showcase our skills of being 'handy women' and there's more room to build and create storage solutions in a garage than most other areas of a house.
How do you find balance in your life?
I stick to my daily routine, getting up early and training in the morning at one of my husband's gyms (code 5 fitness). I also ensure every afternoon I'm completely prepared for every job I have coming up the next day so when I come home I don't need to stress or feel under prepared. So the few hours I get to spend with my husband before bed are always doing something we love together – walking our dog, watching a movie or cooking together.
What does balance mean to you?
Balance is the whole meaning behind the reason I started " The Organised Life". It's bringing together people's work, their family, their friends and their passion and allowing them to enjoy them all while never being overwhelmed or in too deep in one area. I see so often people who over work and we only have so much energy and attention we can give, so if you go too hard in one area you must be prepared to sacrifice in another. Balance is the key to a successful and happy life, it doesn't matter how much money you earn if you have no one to share it with.
If you could outsource any part of your life, what would that be?
We've been overwhelmed with enquires recently and I've been struggling to find the time for phone consultations and doing some of the basic admin work. I'm in the process of hiring someone to help out with invoicing & proposals which will allow me to focus more on the things I love and I'm good at.
We have to share with you some of The Organized Life 'before' and 'after' photos of a laundry and pantry so that you can see how they can transform your spaces.
Spending time with Megan really resonates with our core values of helping our clients to live their 'best life' and for our team to take off their task sheet anything that takes them away from doing what they love.
If you would like to schedule a consultation with Megan and her team, contact our Lifestyle Team to start your Spring Declutter, Organizing and Styling process.
We are inspired, thank you Megan and The Organized Life for sharing your story, tips and tools with us.