Your very own Glamping site
Location: Southern Highlands, Berrima, Canberra region and Sydney region
See the world from a different perspective…Glamping provides the opportunity to experience nature, without roughing it.
With the most luxurious bell tents on the market, we can create bespoke packages for you for celebrations, birthdays, New Years and holidays – where memories will last a lifetime.
We can set up our bell tents at your home, on your private property as well as campgrounds and offer location sourcing services to find that perfect spot.
Our thick canvas bell tents are built for all weather conditions with ample ventilation through the twin doors with flyscreens. Set with high quality commercial grade sheets, guests will enjoy the little luxuries such as real inner spring mattresses on raised bed bases that are 50cm off the ground making them easier to get in/out of for guests, soft touch rugs underneath their feet, warm doonas and blankets with luxury throws, sleek marble side tables and battery operated bedside lantern.
Nature has the ability to lift our spirits, melt away the stresses and worries of modern life which improves our mental health, and it make us feel truly free. To be part of nature can be life changing.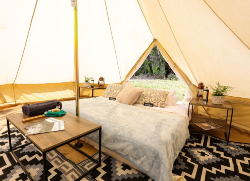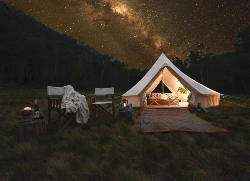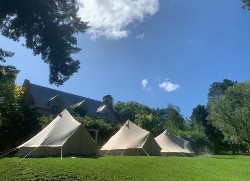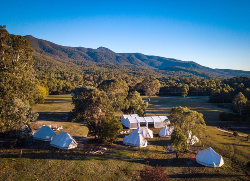 5m Bell Tent Essential Package from $499 per 2 night hire (location dependent) 
Inclusions: King Double Mattress (1 x double or 2 x singles)
2 x side tables, Linen & 2 bed pillows with Doona, Decorative Eco Internal Rugs, 2 x scatter cushions & throw, 2 x Battery Lanterns, External Tent Mat
Sleeps up to 2 guests each
Minimum hire of 5 tents per booking
5m Bell Tent Deluxe Package from $599 per 2 night hire (location dependent)
Inclusions: Essential Package PLUS:
2 x Luggage Rack, 2 Extra Bed Pillows, Waste Paper Bin, Personal Mirror, 2 x side table plants/floral, arrangement
Sleeps up to 2 guests each
Minimum hire of 5 tents per booking
5m Bell Tent Platinum Package from $699 per 2 night hire
Inclusions: Deluxe Package PLUS:
Solar Drop Light, Eco Toiletries Pack x 2, 2 Hamptons Chairs, Clothing Hanger
Sleeps up to 2 guests each
Minimum hire of 5 tents per booking
6m Bell Tent Essential Package
Inclusions: 4 Person Mattress Pack (double & 2 x singles)
2 x side tables, Linen & 2 bed pillows, Doona & Wool Blanket, Decorative Eco Rug, 4 x scatter cushions & throw, 2 x Luggage Rack
Sleeps up to 4 guests each
Minimum hire of 5 tents per booking
6m Bell Tent Deluxe Package
Inclusions: Essentials Package PLUS:
2 x Battery Lanterns, 2 Extra Bed Pillows, Waste Paper Bin, Personal Mirror, 2 x side table plants/floral, External Door Mat, Solar Drop Light, Eco Toiletries Pack x 4