Virtual Wine Tasting with Oakridge
Oakridge is excited to announce the launch of Virtual Private Tasting Experiences.
Ideal to share with colleagues, clients or friends over Zoom. Participants can join a member of Oakridge's expert wine team for an exclusive live online tasting, each participant will be sent a selection of Oakridge's award-winning wines to sip and swirl during the course of the tasting.
Wines will be sent directly by Oakridge to each participant and Oakridge will provide a Zoom link to all participants.
Duration: 45 – 60 minutes
Virtual Tastings sessions can be tailored to suit your group requirements. Minimum number of 10 packs per booking. Sessions available to commence from 4pm, with the latest possible start time being 5.30pm
Contact the Essential Solutions Team to book your virtual tasting session.
---
Yarra Valley Pack
Wine down and experience a taste of the Yarra Valley with our 'Yarra Valley Discovery'.Tasting Pack. The Yarra Valley Range
showcases the best of our vineyard selections with an emphasis on vineyard sites in the upper Yarra Valley.
Included wines:
– 2018 Yarra Valley Chardonnay 750ml – 94pts – James Halliday
– 2019 Yarra Valley Pinot Noir – GOLD – Yarra Valley Wine Show
– 2020 Yarra Valley LDR 750ml – A 50/50 blend of pinot & shiraz
Price: $90 per pack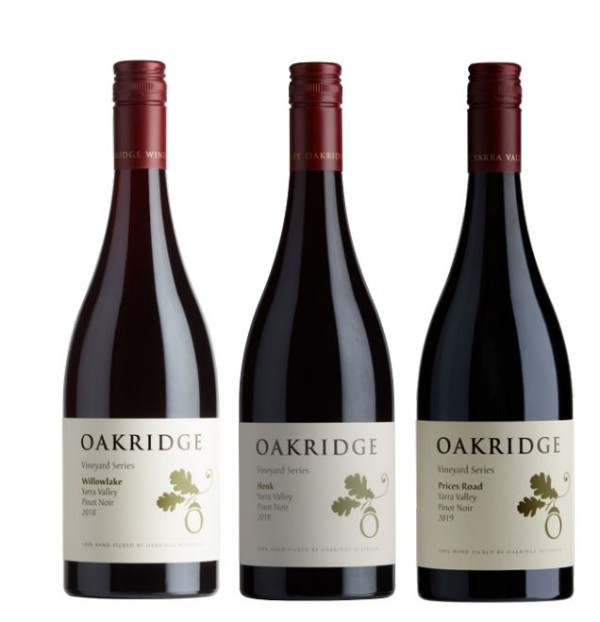 Single Vineyard Pinot Pack
Outstanding expressions of single vineyards within the Yarra Valley. Compare and contrast the power of terroir and geography in winemaking with the Oakridge Vineyard Series wines, with varietals matched expertly to selected sites.
Included wines:
– 2018 VS Willowlake Pinot Noir 750ml 95pts – James Halliday
– 2018 VS Henk Pinot Noir 750ml 96pts – James Halliday
– 2019 VS Prices Rd Pinot Noir 750ml
Price: $130 per pack

864 Vintage Release Tasting Experience
The 864 Range showcases exceptional wines from specific and single blocks, produced in small quantities and released in only the best years.
Included wines:
– 2019 864 Drive Block Chardonnay WINNER Best Chardonnay 97pts – 2022 Halliday Wine Companion
– 2019 864 Aqueduct Block Pinot Noir 96pts – 2022 Halliday Wine Companion
– 2019 864 Close-Planted Block Syrah 96pts – 2022 Halliday wine Companion
– 2018 864 Winery Block Cabernet Sauvignon 96pts – 2022 Halliday wine Companion
Note: Booking fee of $250 applies for non-members to secure the date, arrange delivery of each pack to each recipients and co-ordination of the experience details.