The key lessons that I have learnt over the last twelve years of this incredible journey that is Essential Solutions, is that by continually to listening to our clients, watching and reading the market and evaluating the needs of our clients, we can continue to evolve.
Personally, I am very passionate about change and how it can have a positive impact on how we live our life.  The last fifteen months I have been working with a strategic consultant to map out the future of  our growing business so that we can continue to enrich the lives of our clients and to be the best in our industry.
Our service ethos today is the same as the day we started. To build a business based on trust and to provide exceptional customer service. Today, we've evolved further, utilising technology to help us help more people, even faster and even more easily. We're never standing still.
For all of us, the last two years has been a time of change, evolution and one of reflection. We have learnt so much more about our lives, our loved ones and what truly matters the most.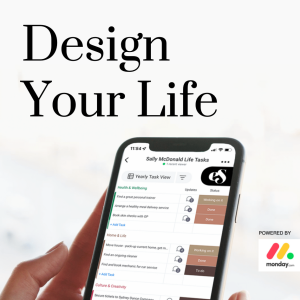 From these learnings, we have been working closely with our clients to keep their lives feeling balanced and enriched. We've listened and welcomed new levels of innovation to the business for our members.
Last week we proudly launched the first of five new campaigns we have planned for the business in 2022, with our Life Optimised, Life Concierge.
This platform is designed for busy Executives, Busy Families and Family Offices to bring them a new life management service designed to optimize their life. Let us Design Your Life in the 'palm of your hand with our digital task platform powered by Monday.com.
HERE IS HOW OUR NEW LIFE CONCIENCE SERVICE WORKS.
1. Select your service
Annual Optimise Membership or Casual Task Pack
2. Year Ahead session
An initial virtual session with your Life Manager to plan all of your major moments, along with regular life tasks happening in your year ahead.
3. Let's make it life happen
Each month we'll work with you to bring all of your moments and tasks to life, as well as spontaneous happenings along the way.
A great life, in the palm of your hand.
Over the coming months we will be streamlining our existing business model and introducing to our website a streamlined way of finding the right service for you, your life, your business.
FOUNDER CONCIERGE
For business owners striving to run a successful business, take care of their staff and live a rewarding and balanced life.
TEAM CONCIERGE
For corporate teams, we deliver Team Concierge, helping executives keep their personal lives in flow and fulfilled, no matter how busy their work like might get. The next frontier in employee benefits and team enablement.
BUSINESS CONCIERGE
Think of us as an outsourced events, marketing and administration cohort, helping you collaborate with other premium brands, take care of your customers and teams.
GIFT CONCIERGE
Gift giving is a joyous affair but it can take time and expertise that you can find hard to get to. Let us take care of the hard part. Whether you are in individual or an organisation we can source, recommend, purchase, wrap and deliver the perfect gift, every time.
ESSENTIALX
Bringing a dynamic and fresh approach to brand activations, events and experiences.
Visit our Life Concierge membership plans to see how our team can give you back valuable time in your day.  Contact click here to email our team to arrange a time to talk about your business.
Essential Solutions – working with high performing people and organisations to help make their best lives and businesses happen everday.